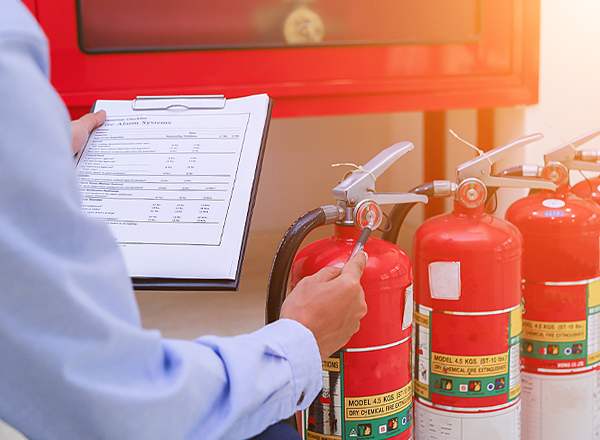 Fire extinguishers help save lives. When you make portable fire extinguisher inspections a priority, you keep people and property safe. When was the last time you had to use your fire extinguisher? While they are most often your first line of defense for fire protection, your fire extinguishers most likely sit in your workplace or home without much thought. The more important questions are: Do you know where the extinguishers are in your home or business? And are they working properly? 
Even though fire extinguishers may not always be top of mind, there's nothing worse than needing an extinguisher in an emergency only to discover that it isn't charged and doesn't work. Portable fire extinguisher inspection is extremely important for the protection of businesses and homes — and OSHA and Fire Codes require specific procedures when it comes to fire extinguishers in the workplace. This article will walk through the best fire extinguisher testing schedule for optimal safety and compliance.
Monthly fire extinguisher inspections. Both the NFPA and OSHA require a monthly "quick check" inspection be conducted. This visual check can be conducted by the owner or someone they designate. During this inspection, the designated individual should ensure that:
All extinguishers are in their designated locations, clearly visible, and easily assessable.
All safety seals and pull pins are still intact.
There's no physical damage. (Corrosion, leakage, cracks in hoses, etc.)
The pressure gauge indicates it has the correct amount of pressure (in the green).
The extinguisher is still full by "hefting" or weighting it gently.
The operating instructions and the inspection records can be seen.
Annual fire extinguisher inspections. Annual fire extinguisher maintenance inspections should be performed by a professional fire protection company. These companies have the proper tools and training to ensure optimal compliance while recognizing and correcting any potentially hazardous situations. Codes require that a thorough maintenance be conducted on every fire extinguisher by a certified fire suppression professional at least once a year. Additionally, an inspection is required at any time that there is any visual damage or evidence of discharge, the pin has been pulled, the pressure gauge is not in the green, and at the time of hydrostatic testing.
Once a fire extinguisher passes its annual maintenance, it is verified with a dated inspection tag. That tag is good for one year from the date indicated. If the unit fails to pass the inspection, it must be repaired or replaced.
Internal Maintenance Inspection: Depending on the equipment type, this inspection should occur every 5, 6, or 12 years
Over time, normal handling or workplace conditions can impact the structural integrity of the extinguisher and cause it to malfunction or burst. That's why different types of fire extinguishers require maintenance and inspections at various internals in addition to the annual maintenance. All portable fire extinguishers are required to be inspected and pressure tested by a qualified individual at a fire protection company. Internal maintenance testing involves discharging of the fire extinguisher and a complete internal examination and recharging to insure all components of the fire extinguisher are working correctly. Extinguishers such as the dry chemical type requiring a 12 year hydrostatic test also require a 6 year internal examination.
Periodically, fire extinguishers need to be hydrostatically tested to ensure the integrity and ability to perform. This method pressure tests an extinguisher's critical components (cylinder, shell, hose assembly, etc.) for leaks and structural flaws by pressurizing them with a liquid.
Check with your manufacturer's manual for the exact requirements for your fire extinguisher. Summit Companies can conduct most fire extinguisher inspections on-site – from annual maintenance and inspections to recharging of the extinguisher and the 6-year internal examination. Hydrostatic testing is the only required service that must be performed off-site. Our fire extinguisher inspection experts are factory-trained to conduct inspections on all types of fire suppression systems.
Fire Extinguisher Training. Summit Companies offers fire safety and fire extinguisher training to teach people how to use a fire extinguisher. Our classroom presentations and "live fire" demonstrations provide:
Hands on experience putting out a controlled fire with a fire extinguisher
Added confidence in an emergency situation
Potential reduction in loss of property and lives when a fire occurs
Contact us for your portable fire extinguisher inspections. We can take care of everything you need to stay safe and code compliant with the full documentation, reporting, and convenient scheduling. Schedule your maintenance and testing today to ensure your workplace stays protected and safe from fire.