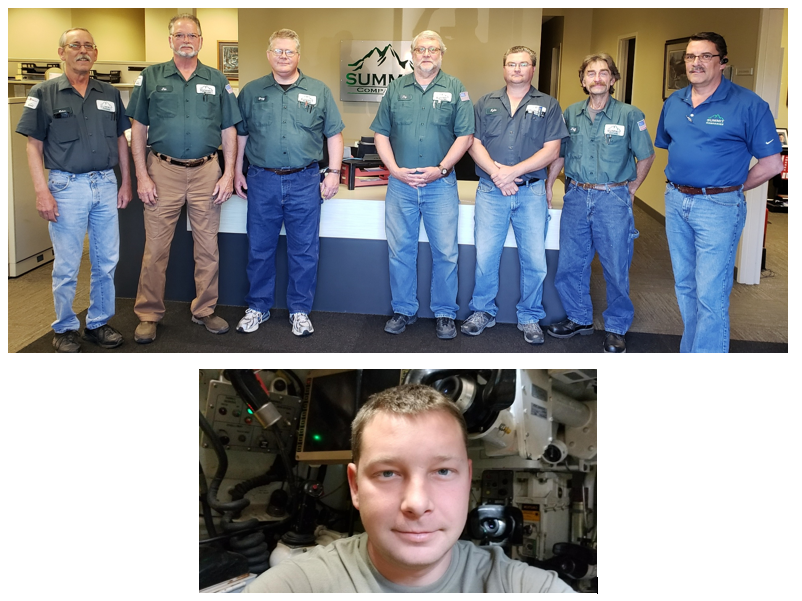 Several team members at Summit Fire Protection in St. Cloud, Minnesota, recently took a big step forward in furthering their professional education. In an ongoing effort to provide customers with the industry's most qualified service and inspection technicians, the St. Cloud fire alarm department recently sponsored a group to attend NICET fire alarm inspection and testing training. Seven team members responsible for panel commissioning, service and annual inspections attended bi-monthly, half-day training sessions for eight months. Team members were trained from the National Training Center's NICET program utilizing the current editions of NFPA 72 National Fire Alarm and Signaling Code®, NFPA 101 Life Safety Code®, and the NFPA 4 Integrated Fire Protection and Life Safety System Testing. Upon completion of the course, all seven team members passed their test and received NICET certification!
Summit Fire Protection team is committed to providing local businesses with the industry's most qualified and trained inspectors. Anticipating specific requirements for ambulatory/health care facilities and related upcoming code adoptions, there was a sense of urgency behind this training program. This NICET certification will benefit our customers that are regulated by Centers for Medicare & Medicaid Services (CMS) and The Joint Commission (formerly "JCAHO"), which require NICET certified technicians to perform work on fire alarm and life safety systems within their buildings.
"Our Technicians are the best in the business—by way of their professionalism, experience, dedication to our customers, and credentials like NICET certification. I am proud of our St. Cloud team for achieving this milestone. In recognition of their professional development, we offer a bonus program as an added benefit for Technicians that achieve NICET certification. Our customers deserve that commitment to excellence," states Ryan Bierwerth, Executive Vice President of Summit Companies.
What is the NICET Inspection & Testing of Fire Alarm Systems Certification?
The certification program is for engineering technicians engaged in the performance, documentation, planning, and coordination of periodic inspection and testing of existing fire alarm systems and their components. General areas covered include inspection and testing procedures, periodicity, documentation, safety, and work management. Technical areas covered include types of fire alarm systems and their respective components, device and circuit specific test procedures for initiating devices, notification appliances, supervisory signal-initiating devices, primary and secondary power supplies, emergency communications equipment, interface with other systems, and on/off premises monitoring. The Fire Alarm Systems certification is a robust credential, based on maintenance and inspection of fire alarm systems and their associated components. AHJs will continue to accept NICET certification as evidence of qualification to perform maintenance/periodic inspections of fire alarm systems.
Contact us today for all of your fire alarm inspection and testing needs!