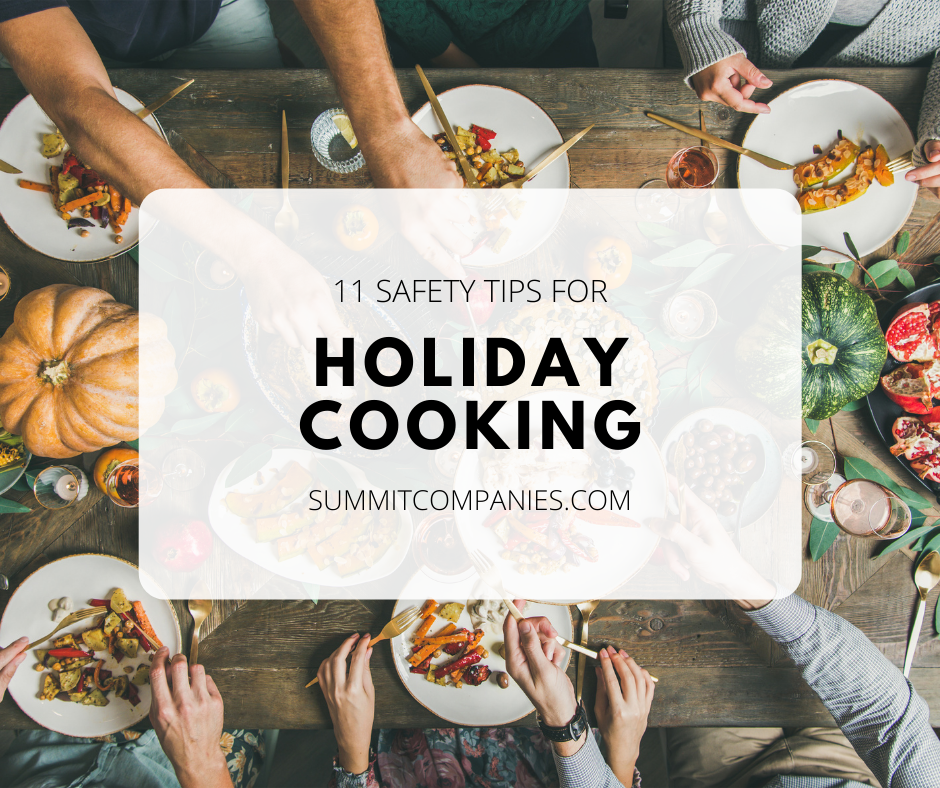 There's nothing like surrounding yourself with family and friends as you enjoy a delicious home-cooked meal together. Everyone looks forward to a tender turkey or ham with all the fixings. Add in beautiful holiday décor and the festive atmosphere is set. Don't let the holidays be ruined by a preventable cooking fire. Check out these 11 holiday cooking safety tips from the experts to keep your holidays festive and fire-free:
1. Never leave food unattended.
Make sure to never leave the kitchen while food is cooking. If you do need to leave the kitchen, don't hesitate to ask a guest to keep an eye on the food for you. According to NFPA, "Unattended cooking was by far the leading contributing factor in cooking fire and fire deaths." It's easy to get distracted or try to multitask with the holiday to-do list, but the safety of your home and loved ones is more important.
2. Get your systems checked.
Did you know you should routinely check your smoke and carbon monoxide detectors? If you plan on being away from home during the holidays, check your home security system too.
3. Have a fire extinguisher nearby.
While you hope to never have to use it, it's easy to purchase a home fire extinguisher to have on-hand. Quite often in the panic of a home fire, homeowners forget where they placed their extinguisher. Keep it in an easy-to-access location, especially in your kitchen. Don't forget to get your portable extinguisher inspected.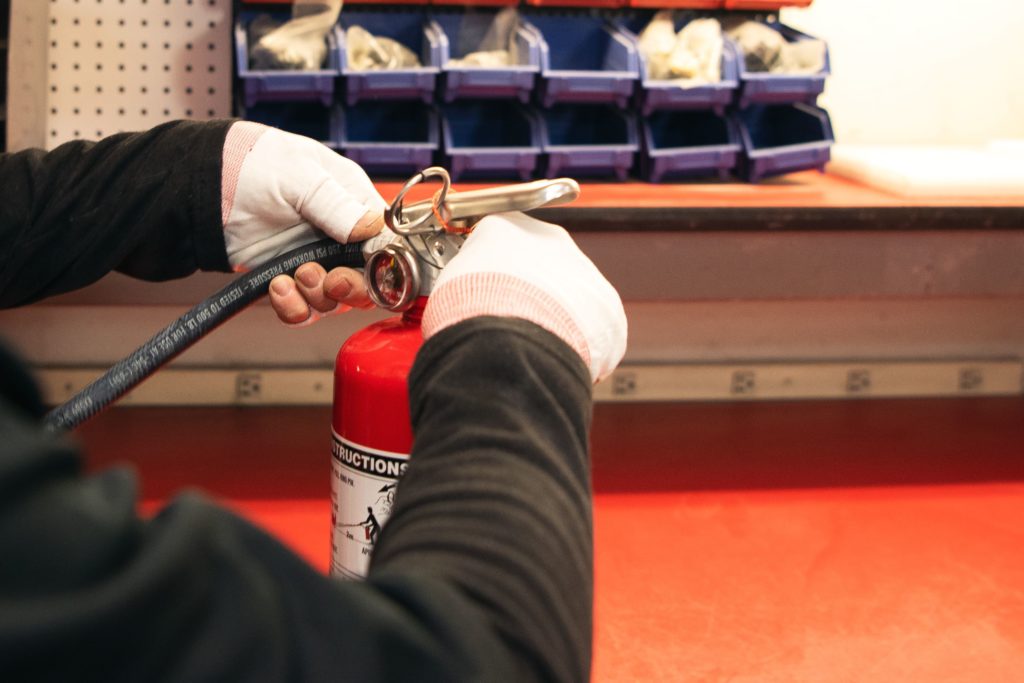 4. Clean the stove and oven.
A clean space minimizes accidents. Grease buildup and other fire hazards are also common with appliances. Keep your cooking appliances and spaces clean year-round, not just the holidays!
5. Roll up your sleeves.
While it's common to wear festive outfits on the holidays, make sure to dress properly while cooking. Avoid wearing loose clothing when cooking, especially near an open flame. Short sleeves or rolled up sleeves are best.
6. Supervise children or pets in kitchen.
Chaos is common with a house full of family over the holidays. To keep distractions to a minimum and ensure everyone stays safe, limit children and pets in the kitchen. Younger kids should stay a safe distance away from the stove and oven. If you're using smaller kitchen appliances, make sure to keep cords away from little hands. Don't forget about your pets too – a waggin' tail or curious nose can cause an accident in the kitchen.
7. Unplug small appliances when not in use.
With multiple dishes in a meal, your countertops can get cluttered with small appliances and ingredients. The easiest way to keep track of everything is to unplug any unused appliances. Once cooled, clean, and safe to put away, remove them from the countertops to avoid excess clutter.
8. Keep combustible materials away from stove.
Be aware of kitchen towels, oven mitts, and other combustible materials that could easily catch fire. Keep all of those items away from appliances.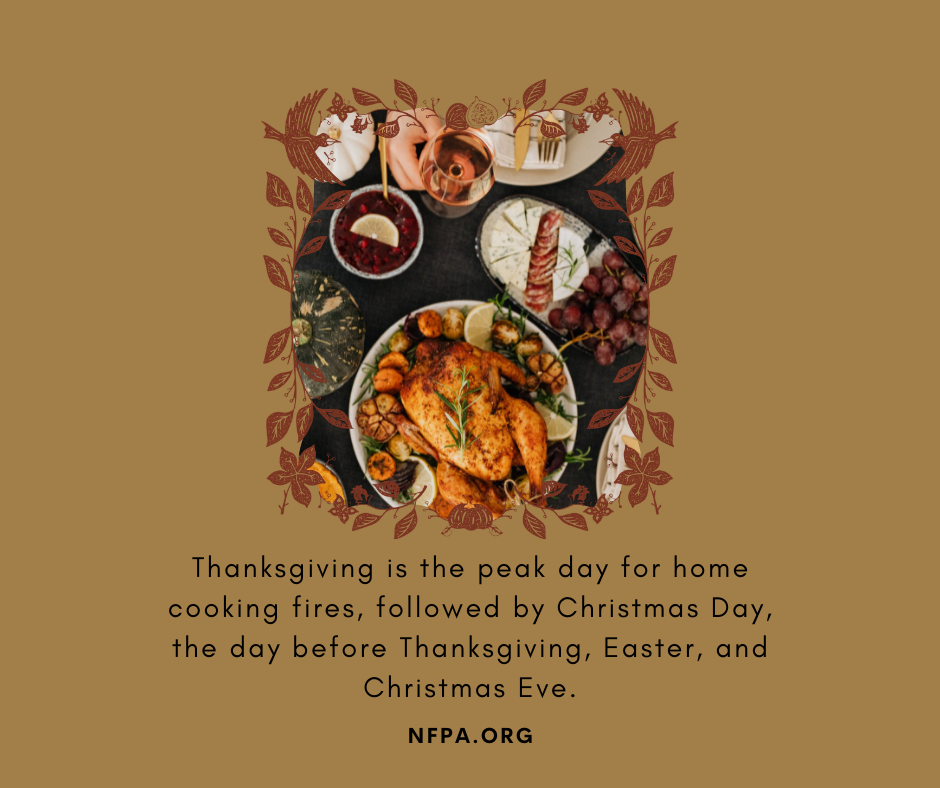 9. Check food regularly while simmering or slow cooking.
A tender, delicious meal is all in the cooking process! Whether you're using an oven, slow cooker, smoker, or grill, check the food regularly. Simmering food can still burn or catch fire.
10. Keep track of timers.
Follow the directions to all your recipes carefully. Use timers as needed and even consider having backup timers, especially as it's easy to not hear a timer or experience a timer malfunction.
11. Call 9-1-1 when in doubt.
If you do have a home fire or other cooking accident, call 9-1-1 immediately, follow the operator's instructions, and evacuate everyone from the house.
According to NFPA, "Thanksgiving is the peak day for home cooking fires, followed by Christmas Day, the day before Thanksgiving, Easter, and Christmas Eve." Avoid a home cooking fire during the holidays and practice these important fire safety tips. For fire protection services, contact our experts to find a location near you.