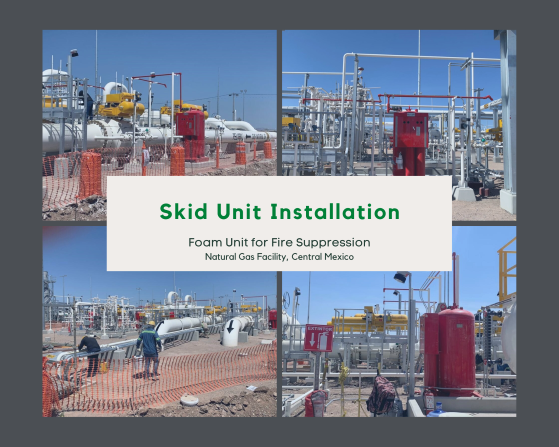 Summit Fire & Security, a subsidiary of Summit Companies, was recently the distributor for several foam skid units, which have been installed in Central Mexico at a natural gas facility. Skid units are powerful pieces of equipment when it comes to fire protection and suppression. Operating as a complete self-contained fire-fighting tool, there is virtually no limit to size or performance capabilities. These units consist of a tank, pump and hose mounted on a self-contained platform. The compact and self-contained design makes a skid unit a very versatile and cost effective tool utilized for fire suppression. Additionally, skid units are a great option for hazards in remote locations and are quick to refill and put back in service after discharge.
Summit Companies, through its subsidiaries, is proud to provide fire suppression solutions to all types of customers, even when specialized equipment is necessary to protect against the threat of fire.
Contact us today to learn more about the services we offer for fire protection and security solutions.