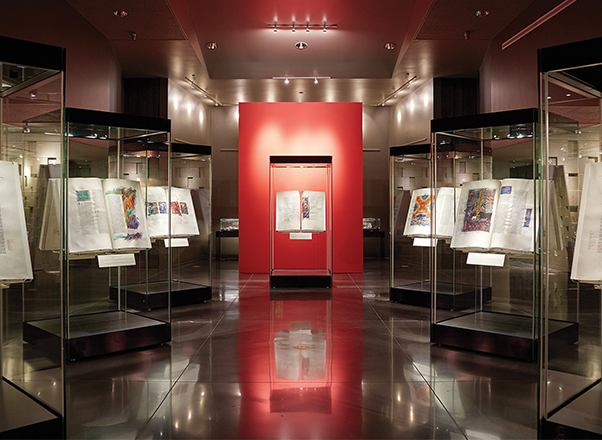 For eleven years, from March 2000 through May 2011, a team of scribes, scholars and calligraphers worked to craft a one-of-a kind illuminated manuscript, the St. John's Bible. St. John's University, a 3,600- student college in Minnesota, commissioned them to create a work of art to "ignite the spiritual imagination of people throughout the world" using traditional methods and materials such as calfskin vellum, powdered mineral pigments, gold leaf and quill pens.
The final product consisted of seven volumes and has been used in dozens of exhibitions around the world,[1][2] including the presentation of a reproduction to Pope Francis.[3] Such a work of art needed a worthy permanent home – a place where it could be accessible to thousands of visitors while remaining in a climate-controlled environment and protected from fire, water and other sources of damage.
St. John's University selected its historic Alcuin Library as the permanent home for the St. John's Bible, including a special collections space with a gallery to display the St. John's Bible to the public and archives for additional rare books, manuscripts and other archives. The university enlisted Summit Companies as the distributor and installer for the fire protection system, working with McGough Construction as the general contractor to install the system within this historic space.
Protecting the Saint John's Bible from fire, water and more
When constructing the gallery for the St. John's Bible, a key construction challenge was to ensure that it would keep visitors' focus on the Bible itself, combining protection with visual beauty. For the fire suppression system, St. John's University needed a solution that would be:
Safe for occupants – from curators to visitors to students
Free from water or other fluids that might warp, smear or damage the Bible's irreplaceable pages
Free of any chemical residue
Environmentally sustainable
Capable of quickly and effectively extinguishing a fire
Suitable for the space constraints of the rebuilt room
In the end, it was an easy choice to select a system with 3M™ Novec™ 1230 Fire Protection Fluid as the extinguishing agent. Summit Companies worked with McGough Construction to ensure that the right system using Novec 1230 fluid was installed, optimized for the space, and tested. All detection and piping systems were concealed and nozzles were installed along the sidewalls so that Novec 1230 fluid could easily discharge into the space but visitors would not be distracted by the mechanical elements of the system.
"Summit was a very collaborative partner," said Andey Rasmussen of McGough Construction. "The expertise Summit brought to the table helped the installation to go well with no major hiccups. It was a great relationship, a great project and all parties involved should be proud of the end result."
Despite the constraints of working within an existing building – including some tight spaces – the system installation was trouble-free. Summit engineers recommended several adjustments to ensure that the system would meet all its design goals, including carefully running piping through a historic – but narrow – crawlspace to ensure good aesthetics and breaking the system up into two separate systems to more easily run agent to both sides of the room's sidewall. When the initial air test on the system was done to test its extinguishing effectiveness, it passed the first time.
From end to end of the installation process, a quality product was installed to meet a quality customer's needs, ensuring effective fire protection for the St. John's Bible would be in place in the Alcuin Library for years to come.
[1] http://www.saintjohnsbible.org/promotions/news/faqs.htm. Accessed January 23, 2019.
[2] http://www.startribune.com/acclaimed-saint-john-s-bible-gets-permanent-home/458507273/. Accessed January 23, 2019.
[3] https://www.saintjohnsbible.org/promotions/lp/francis/. Accessed January 23, 2019.