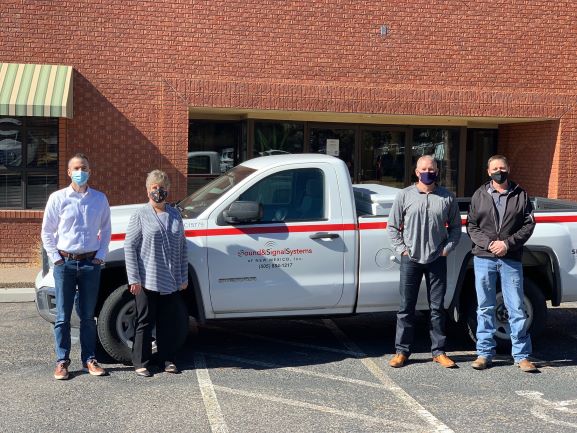 SFP Holding, Inc. (Summit Companies) proudly announced that Summit Fire & Security LLC, a subsidiary of SFP Holding, Inc., has completed the purchase of Sound & Signal Systems of NM, Inc. located in Albuquerque, New Mexico.
Sound & Signal Systems has been proudly serving New Mexico since 1974, specializing in the low voltage field—including fire alarm, security, access control, card access, CCTV, intercom, nurse call, paging, and voice/data. They take pride in providing the highest quality in the design and installation of these systems while assuring that each system meets the performance and reliability demanded by customers. Sound & Signal Systems strives for excellent customer service and, because of this dedication, has remained an industry leader in New Mexico and the greater Southwest.
As Summit Fire & Security and Sound & Signal Systems join forces, there is powerful alignment with the commitment to excellent customer service and quality work. The Sound & Signal Systems team will be an excellent addition to existing operations in the Southwest.
"Ted has built a company centered around technical excellence in their field. The team he has put together has an incredibly high level of expertise to tackle the most complex of projects. This partnership solidifies our presence in New Mexico and poises us to be the market leader here," states Nic Brown, President of Summit Fire & Security.
For the past 47 years, Sound & Signal Systems has made a mark as a well-known, highly respected business that believes in offering excellent customer service and giving back to the community. "Throughout our history, Sound & Signal Systems has remained committed to providing first-class service customers and communities. Additionally, our commitment to give back to our communities through philanthropic efforts is a source of pride for our entire team," states Ted Jorgensen, Owner of Sound & Signal Systems.
The Sound & Signal Systems leadership team, with special recognition to Ted and Margaret Jorgensen, take pride in their philanthropic community efforts. With involvement in many foundations, along with funding the "Ted and Margaret Jorgensen Cancer Center" at the Presbyterian Rust Medical Center, Sound & Signal Systems is well-known for generosity and community involvement.
"Sound & Signal was built on a culture of hard work and excellence, and we're proud to be a leader in this industry. I believe Summit will not only strengthen our ability to serve our customers with expanded services, but also offer our employees a successful future as they join the Summit team. We look forward to the future with Summit Fire & Security as we expand our presence across New Mexico," states Jorgensen.
Summit Companies subsidiaries have grown quickly over the past two years through acquisitions with the addition of 14 new companies. Summit is a financially strong and healthy company, as evident from these acquisitions. As we look to the future, we are excited about our growth opportunities with the Summit Fire & Security subsidiary.