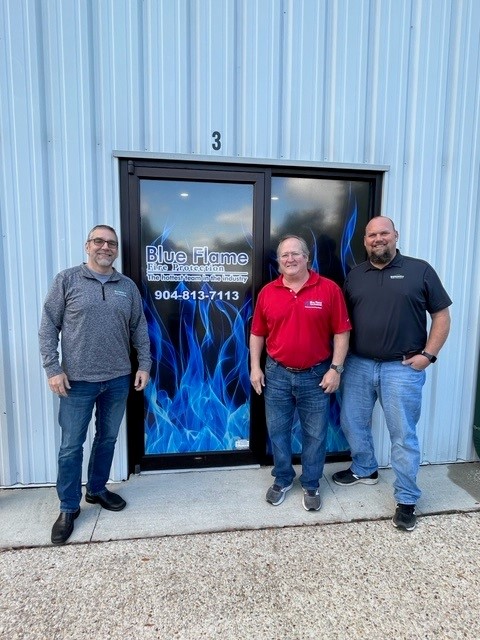 The latest addition strengthens Summit Fire & Security's presence in Florida.
SFP Holding, Inc. (Summit Companies) is proud to announce that Summit Fire & Security, a subsidiary of SFP Holding, has recently completed the purchase of Blue Flame Fire Protection, LLC in Jacksonville, Florida.
Blue Flame Fire Protection has been proudly serving Jacksonville and the surrounding community by providing fire and life safety installation, maintenance, and inspection services. Their expertise spans a variety of systems including fire sprinklers, fire detection & alarm, fire extinguishers, pre-engineered kitchen suppression and special hazard systems. The Blue Flame Fire Protection team will continue serving customers while operating out of the existing Summit Fire & Security location in Jacksonville.
"Blue Flame Fire Protection has enjoyed building its business by serving contractors, owners and the community since 2013. We're excited to join a powerhouse like Summit Fire & Security. It's a great opportunity to combine our expertise as your local fire protection experts with the resources and capabilities of Summit. We look forward to continue protecting our community with Summit Fire & Security," stated Tucker Evans from Blue Flame Fire Protection.
Summit Fire & Security continues to expand their presence not only within the Jacksonville area, but across the state of Florida. Now with additional resources and enhanced capabilities, Summit Fire & Security stands out as the one solution for fire protection throughout Florida.
"Blue Flame Fire Protection is a great addition to our growing business and is very much aligned with our standards of customer service and excellence in Jacksonville. As we expand our footprint across Florida through acquisitions, the critical component is partnering with well-established and reputable companies like Blue Flame. The combination of their expertise and high service standards makes Blue Flame Fire Protection a great addition to the Summit team," stated Nic Brown, President of Summit Fire & Security.
Summit Fire & Security has grown quickly since its inception in 2018, now with 45 branch locations in 18 states. This acquisition signifies continued growth across the country. Visit www.SummitFireSecurity.com to learn more about other locations and their suite of fire protection, security, and life safety solutions.