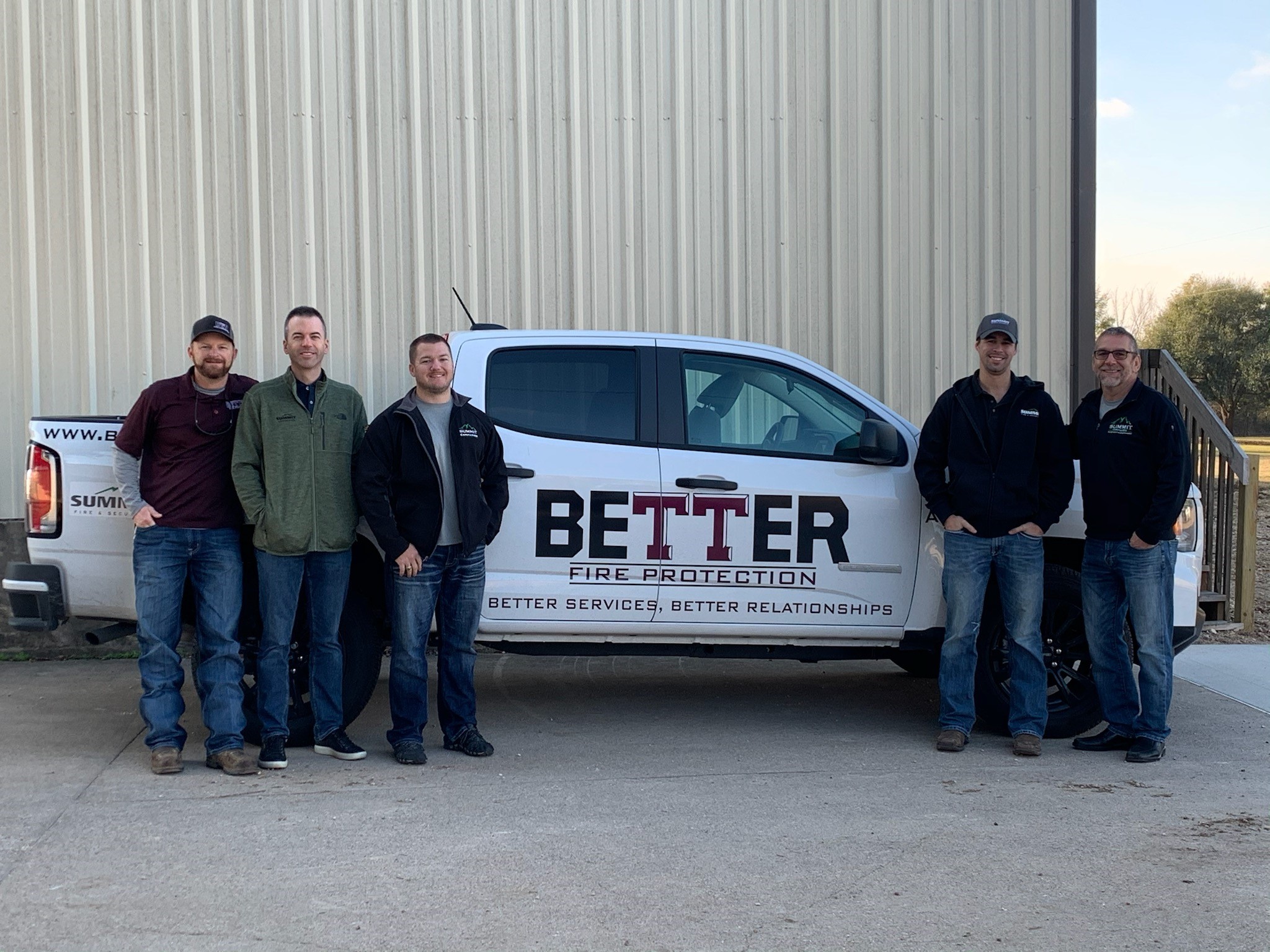 SFP Holding, Inc. (Summit Companies) is proud to announce that Summit Fire & Security, a subsidiary of SFP Holding, has recently completed the purchase of Better Fire Protection, LLC in College Station, TX.
Better Fire Protection was founded in 2019 and has had rapid growth since inception. The Better Fire team brings a wealth of knowledge and experience including expertise in fire sprinklers, extinguishers, and alarm systems. As Summit Fire & Security strives to provide excellent customer service, expanding our presence into College Station allows us to enhance our capabilities and resources to be the one solution for fire protection throughout Texas. With the nearest branch offices located in Houston, Lufkin, Amarillo, Dallas and Oklahoma City, the Bryan/College Station office will be a critical addition to our existing capabilities.
"We are once again excited to see our presence in Texas continue to grow with the addition of Better Fire. This location highlights our continued commitment to the region and our customers. The owners of Better Fire have incredibly strong ties to the community they serve and live in and have managed to put together a team with contagious energy, focused on customer centric business practices. We are certainly looking forward to growing with this dedicated team," stated Nic Brown, President of Summit Fire & Security.
Buck, Troy and Robert of Better Fire bring a plethora of talent and experience to the sprinkler side of the Texas market for Summit Fire & Security. "We are excited to join the rapidly growing Summit Fire & Security team and continue on the trajectory we have sustained throughout our time of growing Better Fire. Better Fire and Summit Fire & Security are both built on conservative values, hard work and a customer-first approach. This partnership will provide access to more resources for our employees as well as expand the services we can give to our customers. Our employees will have a great future ahead of them with new opportunities as a result of us joining the Summit team," stated Robert Irving of Better Fire Protection.
Summit Companies subsidiaries have grown quickly over the past two years through acquisitions with the addition of 13 new companies. Summit Fire & Security currently has locations in Colorado, Nevada, New Mexico, Oklahoma, Texas and Utah.  Summit Companies continues to be financially strong and healthy, as evident from these acquisitions.