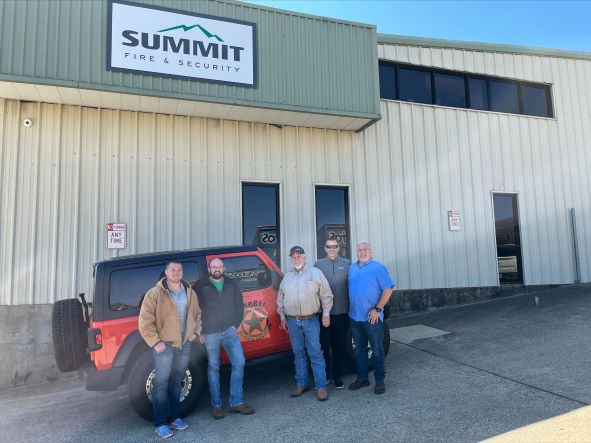 SFP Holding, Inc. (Summit Companies) announced that effective March 14, 2023, Summit Fire & Security LLC, a subsidiary of SFP Holding, has completed the purchase of Green Enterprises, LLC, doing business as "Global Alarm Systems".
Global Alarm Systems has been proudly serving customers throughout the communities in Texas since 1975. With expertise in integrated security and life safety systems, Global Alarm Systems has been the trusted resource for camera surveillance, access control systems, commercial fire alarm systems, and more. They serve customers across many industries, with specialty in education, multi-family, and healthcare.
"We are excited to add the team from Global Alarm Systems. Their proud history of serving the customers of East Texas, and their strong knowledge of the market gave us the desire to partner with them. We will now be able to take that strong reputation that Global Alarm has built with fire alarm and security services and expand on that with the other services offered by our Texas Summit Fire & Security team," stated Chris Miller, VP of Summit Fire & Security.
"We are proud to join the Summit Fire & Security family. We value our employees and customers like family, and we know this is an outstanding move for both. Joining Summit will further strengthen our high standards and will finally enable us to offer the full suite of security and life safety services to our customers," stated Don Green Jr., owner of Global Alarm Systems.
As Global Alarm Systems transitions to Summit Fire & Security, customers will continue to be served out of Tyler, TX, as well as Lufkin, TX. Additionally, customers will now have access to expanded service offerings across the entire spectrum of fire protection and life safety categories, including fire sprinklers, fire detection & alarm, fire extinguishers, pre-engineered kitchen suppression, and special hazard systems. All your fire protection needs can be met through the comprehensive suite of offerings with Summit Fire & Security.
Summit Fire & Security continues to provide superior service to local and regional customers with the comprehensive suite of fire protection, security, and life safety solutions. Visit www.SummitFireSecurity.com to learn more.