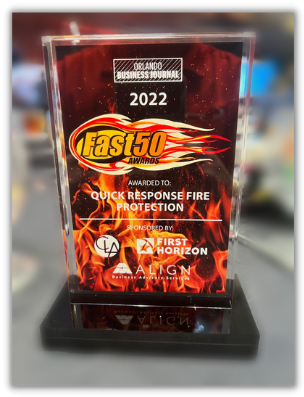 What an honor for Quick Response Fire Protection to jump from No. 13 on the Fast50 in 2021 to No. 11 with 80.77% growth over three years in 2022.
The Orlando Business Journal recently recognized Central Florida's Fast50, a list of the area's fastest-growing private companies based on their revenue percentage growth over the past three years.
Congratulations Quick Response Fire Protection!
Quick Response Fire Protection is a family-owned business with three locations in Florida: Groveland, Clearwater and Melbourne. They have demonstrated strong expertise in fire detection & alarm, fire extinguishers, pre-engineered kitchen suppression and special hazard systems.
Summit Fire & Security LLC, a subsidiary of SFP Holding, Inc. (Summit Companies) had acquired Quick Response Fire Protection at the beginning of September 2022.
Recent acquisitions have allowed Summit Fire & Security's footprint to expand into 13 branch locations throughout Florida, with a specific focus most recently in the central Florida region. This growth is significant and has allowed Summit Fire & Security to become the leading comprehensive FLS provider in Orlando and central Florida.