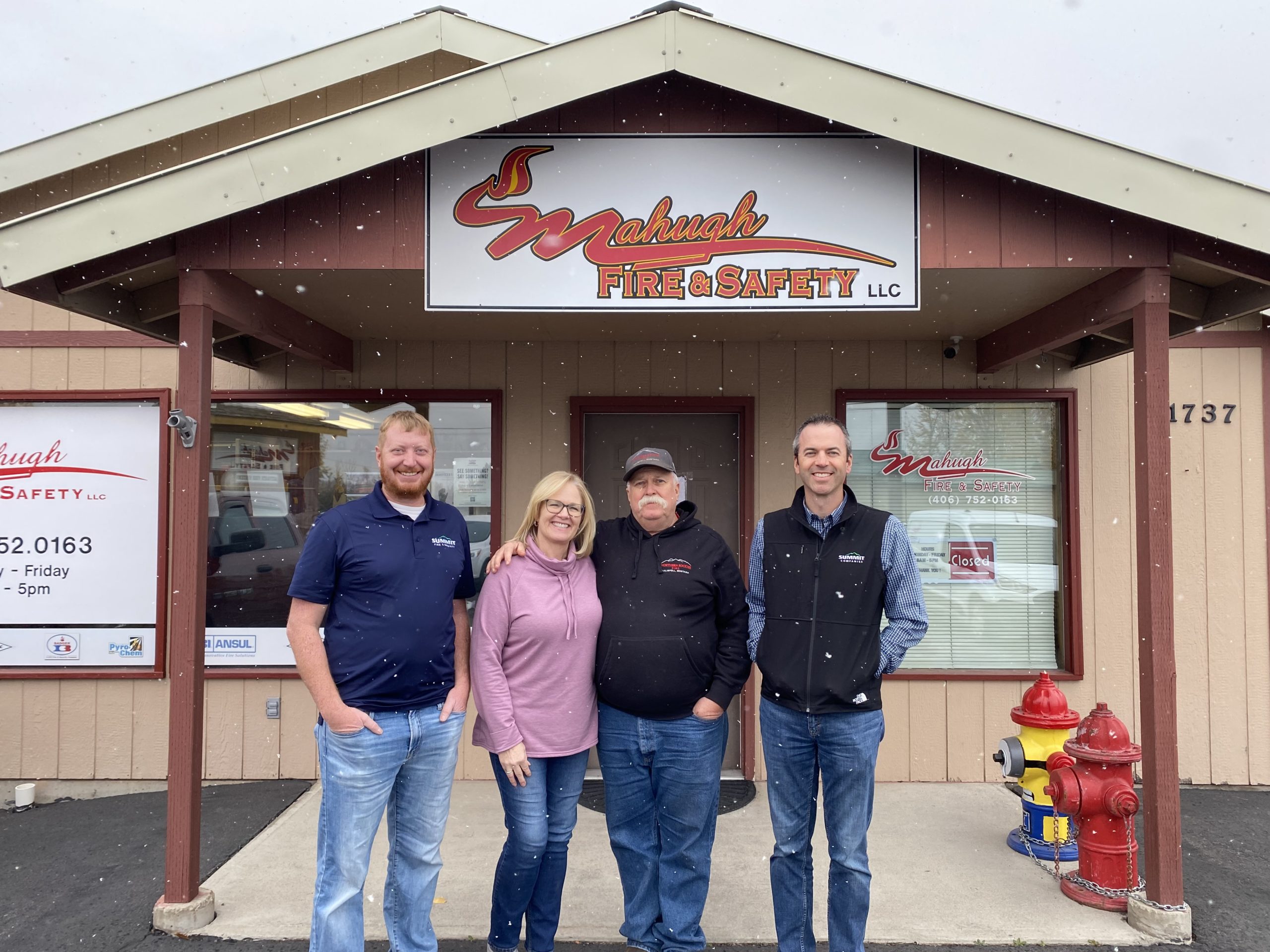 RENO, NEVADA – Summit Fire & Security LLC, a subsidiary of SFP Holding, Inc. (Summit Companies), announced the acquisition of Mahugh Fire & Safety, effective October 24, 2023. This strategic move represents a significant expansion of our operations in Montana and further solidifies our commitment to ensuring the safety and security of communities in the region.
Mahugh Fire & Safety has a long-standing reputation for excellence in the fire protection industry, and their dedicated team of professionals brings a wealth of experience and expertise to Summit Fire & Security. By integrating the Mahugh team into our existing team, we are better positioned to serve the unique needs of Montana and surrounding areas with a comprehensive range of fire protection services and expertise.
"As the Mahugh team joins Summit Fire & Security, this just opens the door for future growth. I'm proud of the team we've built and the reputation we've earned in our community over the years. Additionally, Luann and I are excited to now focus our efforts on our fire equipment business known as Northern Rockies Fire. As a company focused on supplying teams with fire equipment, we will continue to supply fire departments and others with a large array of fire equipment ranging from pumps and nozzles to extrication and rescue tools to fully equipped engines," stated Gary Mahugh, owner of Mahugh Fire & Safety and Northern Rockies Fire.
Mahugh Fire & Safety will transition to Summit Fire & Security in Kalispell, Montana, marking Summit Fire & Security's fourth location in Montana, complementing its existing branch locations in Bozeman, Billings, and Missoula. Summit Fire & Security Kalispell offers a diverse range of services and sales, encompassing portable fire extinguishers, fixed pre-engineered fire suppression systems, and other code-mandated solutions. These services, along with fire alarm and sprinkler services offered through our Bozeman, Billings, and Missoula teams, will provide a complete offering for all fire protection and life safety services for customers.
"With the acquisition of Mahugh Fire and Safety, we are excited to expand our services to a 4th location in Montana. Their reputation for high quality customer service and industry expertise is a great addition to our current offerings. We are excited to have this as a landing spot in Western Montana to expand our reach as a sole source provider of fire and life safety systems," stated Brian Hoerner, Regional Vice President at Summit Fire & Security.
Summit Fire & Security is a leader in the fire protection and security industry. As evident through recent acquisitions and growth, Summit Fire & Security is a financially strong and healthy company. As we look to the future, we are excited to continue providing superior service to local and regional customers.
Visit www.SummitFireSecurity.com to learn more about other locations and their suite of fire protection, security, and life safety solutions.