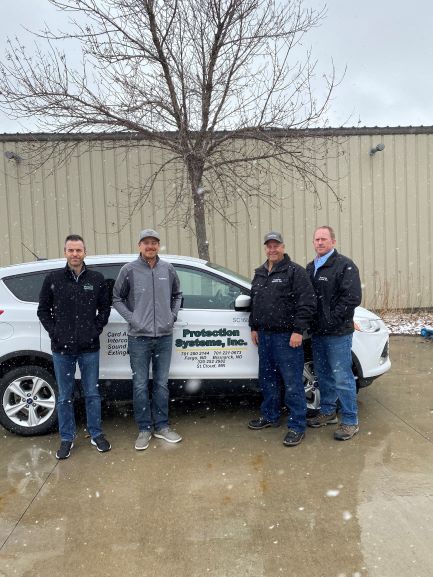 SFP Holding, Inc. ("Summit Companies") announced that Summit Fire Protection Co., a subsidiary of SFP Holding, has completed the purchase of Protection Systems, Inc. located in Fargo, ND and St. Cloud, MN.
Protection Systems specializes in low voltage systems including fire alarm, CCTV, nurse call and access control and has been proudly serving local businesses in Fargo-Moorhead, Western North Dakota, and Greater Minnesota since 2000. They also work with school systems to provide intercom and clock systems.
The Protection Systems team brings strengths and capabilities well-aligned with Summit Fire Protection and they will be a valuable addition to the team as they join existing Summit Fire Protection operations in Fargo and St. Cloud.
"After meeting with Randy and Marvin from Protection Systems, we were impressed with their expertise in fire alarm and security services. It was apparent that they would be an incredible complement to our existing teams in Fargo and St. Cloud, and an overall great fit with Summit Fire Protection. They have built a solid reputation and are known for providing a level of service we strive to provide our customers and communities," stated Russ Holmes, Summit Fire Protection's Fargo Fire Suppression Manager.
"We have been incredibly proud to serve our communities and local businesses, and now we're excited for the next chapter when Protection Systems joins Summit Fire Protection. Summit's level of expertise, additional capabilities and services, and commitment to customer service made them an obvious partner to continue serving our valued customers," stated Protection Systems co-owner Marvin Fletcher. "I look forward to joining the Summit Fire Protection team and continuing to grow our leading Fire Alarm & Security practice. I'm also proud that our employees will continue on with Summit Fire Protection, so our existing customers will see familiar faces along with new team members that bring additional capabilities to better serve all of their fire and life safety needs," states Protection Systems co-owner Randy McFarland.
Summit Companies subsidiaries continue to grow quickly having already completed a combined seven acquisitions in 2021. "Summit Companies expansion strategy is built upon a strong financial position and its desire to be the partner of choice for sellers. Summit Companies continues to seek companies interested in joining its market leading subsidiaries' expansion plans and is excited about the many growth opportunities ahead," states Adam Schreier, Vice President of Corporate Development for Summit Companies.