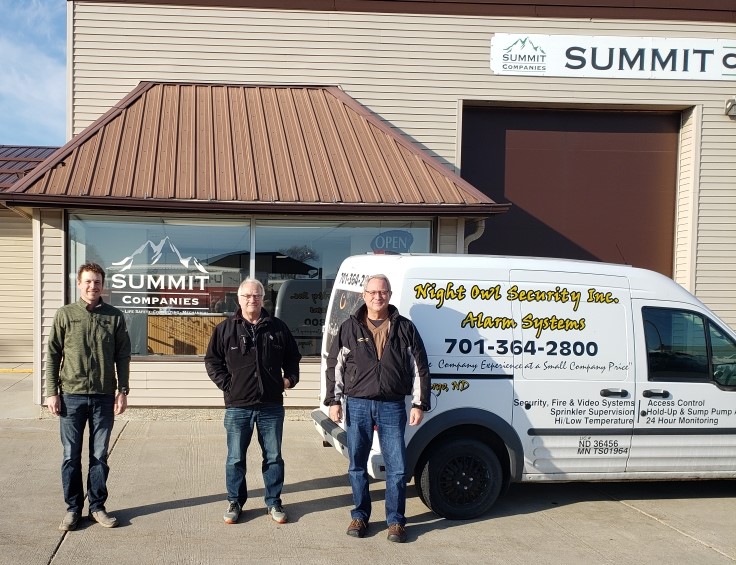 MENDOTA HEIGHTS, MINNESOTA – SFP Holding, Inc. (Summit Companies) is proud to announce that Summit Fire Protection, a subsidiary of SFP Holding, has recently completed the purchase of Night Owl Security Inc. in Fargo, North Dakota.
With more than 60 years of experience, Night Owl has been a leading security company in Fargo and the surrounding communities. With their wealth of knowledge and experience in security systems, fire alarm systems, video surveillance and access control, Night Owl will be a critical addition to the existing Fargo branch and the capabilities of Summit Fire Protection across the Midwest.
With 25 branch locations across the country, Summit Fire Protection continues to expand and emerge as the leading fire protection expert for customers in many industries.
Summit Companies subsidiaries have grown quickly over the past two years through acquisitions with the addition of 10 new companies. Summit continues to be a financially strong and healthy company, as evident from these acquisitions. As we look to the future, we are excited about our growth opportunities with the Summit Fire Protection subsidiary.
"We're excited that Night Owl is joining operations with Summit Fire Protection in Fargo. We've built a strong business over the years based on great customer service, and we believe Summit will continue offering great service with expanded options to Night Owl customers. And thank you to all of our customers from over the past 14 years – we have been honored to serve you," stated Frank Lang, previous owner of Night Owl Security.
"We have been proud to serve our customers in Fargo and the surrounding areas for the past several years, and now we're looking forward to offering a full suite of fire protection services alongside a company that shares our values and culture. Many thanks to our customers for allowing us the opportunity to provide them with security services," states Mark Kraft, previous owner of Night Owl Security.
Summit Fire Protection currently has locations in Arizona, Iowa, Michigan, Minnesota, Nebraska, North Dakota, South Dakota and Wisconsin. Summit Companies continues to be financially strong and healthy, as evident from these acquisitions.
"The joining of forces with Night Owl expands our services, while also increasing our market presence in Fargo and surrounding areas. It strengthens our mission to become the industry leader as a one-stop shop for Fire and Life Safety services," states Chris Gillen, President of Summit Fire Protection.