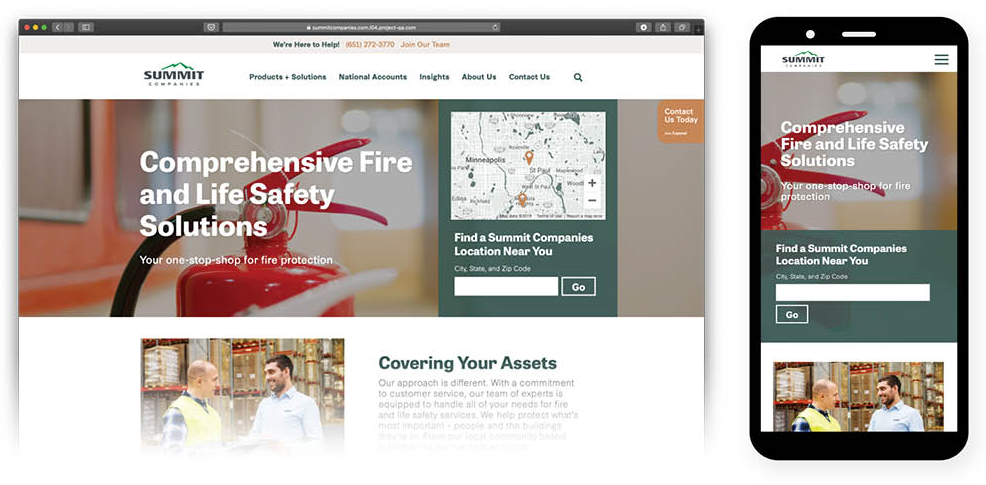 Summit Companies, a premier fire and life safety company, is proud to announce the launch of its new brand identity and redesigned website at www.summitcompanies.com. The new website features a streamlined, modern design with improved functionality and easy access to essential information for customer groups across the nation.
With an expanding branch presence nationwide, Summit Companies is comprised of a team of experts that offers a powerful combination of national scale, breadth of services and deep technical expertise. The new websites create organizational cohesion and represent the structure of Summit Companies, including individual websites for its subsidiaries Summit Fire Protection, Summit Fire & Security, Summit Fire Consulting and Summit National Accounts.
"We're proud of our history and roots, and our new brand identity preserves the essence of our original logo while modernizing it to represent who we are today. Recognizing that the work we do locally, regionally and nationally requires a team, the new brand identity and websites elevate the work we do on the subsidiary level and acknowledge the national brand we represent as Summit Companies," states Summit Companies Founder Quint Rubald.
The new websites complement the long-standing commitment to provide exceptional customer service regardless of a customer's location. To increase usability and ease of access, the websites were built using a responsive design to allow viewing across all devices. The enhanced digital presence puts the user in the driver's seat with easy access to information and support, from national account customers requiring broad geographic coverage to customers preferring local expertise and support through its many self-perform locations across the country.
"We are thrilled to debut our new company websites to our customers, partners and employees who are looking to understand the breadth of Summit's products and solutions," said Jeff Evrard, CEO of Summit Companies. "The new websites showcase the full capabilities of Summit, allowing anyone across the nation to have the same experience and access to our robust product and service information."
Summit Companies was founded on January 7, 1999 in Roseville, Minnesota. More than 20 years later, the company now has 35 locations in 14 states with ample opportunity to expand over the next several years. Looking to the future, Summit Companies recognizes the importance of maintaining and expanding local presence with brick and mortar, as well as enhancing their digital footprint to remain competitive with the shifting demands of consumers today. The refreshed brand and online presence is a future-focused approach to driving relationships with customers locally, regionally and nationally. The continued development of Summit Companies new brand identity across all digital platforms, including social media and digital marketing, is a key focus in 2020.