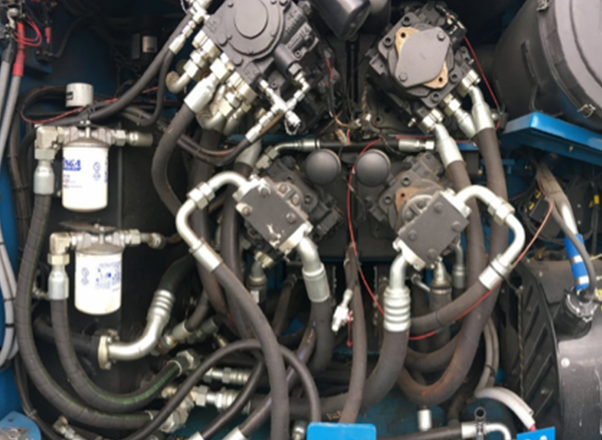 Summit Companies a premier Midwest region Fire and Life Safety (FLS) specialist company, with an expanding national presence, provides complete fire suppression, fire alarm & security, and fire sprinkler systems designed to protect buildings, assets and people.
To guard against the risk of fire on landfill compaction vehicles, the use of automatic (or manual) fire suppression systems are common practice. These suppression systems contain dry chemical, liquid agent, or twin-agent extinguishing compositions.  Recently Ryan Weber, Fire Life Safety Manager at Summit Companies for the Iowa City Operation, worked with C&C Machining of Ottumwa, IA on the design and installation of an ANSUL® LT-A-101 Vehicle Suppression System on an ADV Model 525 Landfill Compactor.
The A-101 system is designed for use on large, non-road type construction, mining equipment, underground mining equipment and specialty non-road machines like landfill compactors. The A-101 system can be designed to flood entire spaces with extinguishing agent or to aim nozzles to protect specific high-hazard areas like engine compartments, turbo chargers, wheel brakes and hydraulic hose lines.
An ANSUL CHECKFIRE® system is used with the A-101 system to provide around-the-clock, automatic fire detection and actuation.  The rugged control module is designed to withstand shock, vibration and extreme environmental conditions.  The CHECKFIRE system includes supervised circuitry, adjustable shutdown, discharge time delays and auxiliary shutdown relay.
According to the American Society of Civil Engineers (ASCE) 2017 Infrastructure Report Card, Americans annually generate about 258 million tons of Municipal Solid Waste (MSW) of which approximately 53% is deposited in landfills. Currently, 35% of MSW is recycled and 13% is combusted for energy production. The average American produces 4.4 pounds per day of MSW, down from the peak of 4.74 pounds in 2000; however, that has remained relatively flat over the past 25 years.
Municipal solid waste (MSW)– more commonly called trash or garbage – consists of everyday items that are used and then thrown away, such as product packaging, grass clippings, furniture, clothing, bottles, food waste, newspapers, appliances, paint, and batteries.  After these items are removed from the waste stream for recycling and composting, the remainder are deposited into landfill facilities.
To afford maximum utilization of landfills, waste compaction is the process of compacting waste, reducing it in size.  Garbage compactors and waste collection vehicles compress waste so that more of it can be stored in the same space.  Waste is compacted again, more thoroughly, at the landfill to conserve valuable airspace and to extend the landfill's life span.
A landfill compaction vehicle has two main functions: (1) to spread the waste evenly in layers over the landfill, and (2) to compact waste to reduce its volume and help stabilize the landfill. 
Proper waste compacting includes the process of using a steel wheeled/drum landfill compactor to shred, tear and press together various items in the waste stream so they consume a minimal volume of landfill airspace. The higher the compaction rate, the more trash the landfill can receive and store.
The risk of fire in landfills comes from mainly three sources: (1) trash itself as many of the everyday items found in landfills are Class A fuels (paper, clothing, packaging materials, etc.), (2) landfill gas is a complex mix of different gases created by the action of microorganisms within a landfill.  Landfill gas is approximately forty to sixty percent methane, with the remainder being mostly carbon dioxide.  Methane gas is a Class B fuel, and (3) the landfill compaction vehicle where super-heated turbo charges, large capacity fuel tanks and hydraulic fluids under extreme pressure pose risk to both landfill, but more importantly the compactor operator.
To learn more about fire protection for non-road mobile equipment, please contact us here.